What a great followup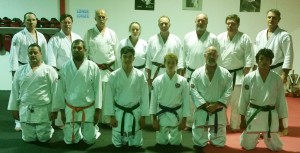 We certainly have followed our start to training for the year with outstanding training already in karate with my instructor Klaus Mueller Shihan coming to visit us. Such a great night for training and exposed many of our beginner adults in the martial arts that there isn't just one way to do something.Not only have our kids karate and adults karate started strong with new members, so has our fitness kickboxing classes. New music, new routines and a great atmosphere to go with it.For our more experienced members, they have already experienced some of our new systems already and are enjoying the 1st class training offered out our school.
Its also great to see the kids karate receive a boost in training with new programs being introduced over the next few weeks. Here's to 2015.