SO HOW DID BMA-Busselton Martial Arts (Busselton Koryukan) become the regions leading and most qualified professional martial arts schools in the Western Australia?
WHERE DID IT ALL BEGIN in the 80's
Chief Instructor of BMA, Craig Crampton first began his training in the Bridgetown dojo in 1986 under the instruction of Klaus Mueller (now Renshi Shihan 6th Dan). Understandably during this early time the training was brutal and very hard on the younger generation and the retention rate of any student was extremely low, though without many more options available in the small country town, Craig persevered with the training, often suffering from injury. But by the end of the first year of training, all of Craig's friends who he had joined with had left training and Craig passed his first grading to 8th Kyu in 1987.
The years had passed and with diligence Craig saw hundreds of people come and go. The dojo had moved from  Rowley street to the Hall near the high school by 1989 and as a 3rd Kyu Craig was given permission to teach Thursday nights classes to help alleviate the travel his instructor was doing coming from Manjimup. Up until then Klaus Shihan was travelling twice a week to Bridgetown, as well as teaching twice a week in Manjimup. Taking on the role very seriously he continued in a very simular fashion of  teaching in the dojo, commanding and gaining the respect of adults in the classes. By 1991 Craig was awarded his black belt, continued his teaching and increased his training to the Manjimup Dojo as well, attending up to 4 nights per week and taking up Muay Thai Kickboxing during what is considered the most important years of schooling for his TEE subjects.
(photo 1) Craig as a yellow belt (photo 2) Craig as a black belt with Klaus Shihan
At this stage of his life Craig was helping his parents in the family cafe, holding down an after school job as a trainee antique restorer / furniture maker. With his he continued training he graduated from high school in 1993. Unfortunately that year the Bridgetown dojo had closed due to lack of numbers, Craig's brutal instruction was only that matched by his own instructor Klaus Shihan. Craig then only trained in the Manjimup Dojo and car pooled the remaining senior students when they could attend. By the end of 1993, Craig moved to the seaside town of Busselton after being accepted into a cabinetmaking pre-apprenticeship course at the Bunbury college of TAFE and obtaining a part time job in Busselton. During this time Craig travelled to the Hombu dojo in Bunbury under Alan Burdett Shihan (Now Hanshi 8th Dan) every Monday night plus also having a small stint in the local Shotokan dojo to keep his fitness and training going. With his continued loyalty to the SWKGA Craig was given permission to open his own dojo in Busselton by March1994.
Craig was awarded his Nidan-Ho (sub 2nd Dan Black Belt) grading firstly in May 1995. Unfortunately it was withdrawn after Craig failed to attend the National grading held by the I.K.G.A. National grading in 1996 in Brian Mackie's dojo in Perth after he had received a serious back injury at work. With perseverance Craig was re-awarded his Nidan-Ho in November 1996 and only 12 months later achieved his full Nidan (2nd Dan). By 1998 Craig was still teaching at his dojo, though now expanded to Dunsborough teaching 4 nights a week. Under an introduction by Klaus Mueller Shihan Craig was invited to a weapons seminar held at the Budokan Academy in Canning Vale, Perth under Ramon Lawrence Kyoshi. This was Craig's first experience into Iaido (Japanese Swordsmanship) and Jodo (Japanese Short Stick).
With little to go on and with regular trips to Perth for training, Craig was given permission to also open a dojo teaching the weapon arts in 2000 after having a very successful open seminar held in Busselton. By this time Craig had now expanded once again and began teaching five nights a week as well as being a full time tradesman in Fine Furniture at one of the local galleries in Yallingup.
(photo 1) Craig Sensei with Paul Starling Hanshi (photo 2) Sensei Craig with Grandmaster Goshi Yamaguchi in 1996
(photo 3) Craig Sensei with Ramon Lawrence Kyoshi (photo 3) WA State Champions
By 2002, Craig was awarded his Sandan-Ho (Sub 3rd Dan Black Belt) under the IKGA in GoJu-Karate, though the pressure of so many classes eventually gave way. Craig closed the Dunsborough karate dojo and converted back to one night teaching the weaponry and kept his karate to two nights in Busselton. In 2004 Craig was awarded his Shodan (1st Dan) in Iaido and by 2005 Craig was awarded his Shodan in Jodo as well as becoming Western Australian Individual state champion in Jodo along with David Puzey (a long time friend in both karate and weaponry). In 2003 Craig was awarded a very prestigious Shodan (1st Dan) in Budokan Bujitsu (A rare and highly sought after recognition) and a nomination into the W.U.K.O. International Hall of Fame, for his continued effort and contribution to the martial arts.
In 2005, Craig open his own fine furniture Business in Busselton and handed over the Southwest Budokan to his senior student Rick Berghuis (now 5th Dan in Jodo & Iaido) so they could focus expanding the weapon arts in both towns. Busselton Budokan reduced to one night per week and the karate continued on two nights. In 2005 Craig was fortunate to be introduced to Kunaikai Nagyama Sensei who was the world technical advisor for Jodo and also with family linage as Samurai. Over the next few years their mutual friendship grew to an extent to where Nagyama Sensei gave Craig him his Japanese translation for his name in the traditional way of describing who Craig was as a person and a student and was also privileged to be given a dojo name by Nagyama Sensei and Busselton was now known as 'Shinbukan' **NB Meaning 'High quality traditional dojo of Budo'.
Nagyama Sensei with Craig Sensei and handwritten notes from 2005 for 'Shinbukan'
During the last 12 months, Craig also attended a trip to Japan with Alan Burdett Shihan, Peter Davis Jokyo, Colleen Wallingford and Kathy. There they trained full time for over two weeks with Masao Akita Shihan, the National Kumite team and Gonnahyoe Yamamoto, Grand Master SoShihan of IKO GoJu-Ryu. Craig was ALSO fortunate enough to have a personal name given to him by Masao Akita Shihan as they where leaving. The training in Japan was memorable not only for the great time but also for the brutal training and weather during August.
(Japan Trip at the IKO Honbu Dojo in Tokyo)
For the next few years Craig focused on his training in all three arts. Craig was awarded his Sandan (3rd Dan) in GoJu Ryu in May of 2005 and his Nidan in July for Iaido in the same year. He then travelled to Tasmania to compete in the Australian Kendo Renmei Nationals (a week long camp), train and receive his Nidan in Jodo and progressed to Sandan in Iaido at the Perth Budokan Academy in July 2008. Finally once again attending the AKR Nationals in Perth of 2010 to train and be awarded awarded his Sandan in Jodo. Craig also was married to his wife Rebecca in May.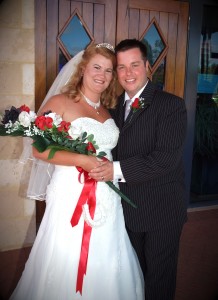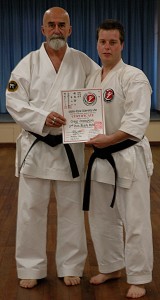 Klaus Mueller awarding Sensei Craig with his 3rd Dan Black Belt
The GFC hit Australia in 2006/2007 and Craig's fine furniture business felt the brunt of the economy and struggled to stay open until June 2008. Craig made the quick switch to Real Estate and became one of LJ Hookers leading salesman in Abbey, Busselton and eventually moved to Busselton Land and Estate when the owner of LJ Hooker sold the business. During this time Craig started to focus more on his karate classes, expanding once again to children's classes and also teaching karate in the 'After School Activities' program to local primary school children.
THE BIG CHANGE 2012 and ONWARDS
After almost 18 months of continued training in Bunbury under Alan Burdett Hanshi, (plus normal classes in Busselton) Craig suffered a life threatening heart attack during his last training night in Bunbury 4 days before his expected grading in November 2012. A decision was made after 3 years into real estate to leave the industry and seek a different direction in life. Craig was awarded his Yondan (4th Dan Black Belt) and title of Jokyo from Alan Burdett Hanshi (8th Dan) & Gonnohyue Yamamoto SoShihan (10th Dan) later in November 2012.
(Grandmaster G. Yamamoto with Craig Sensei and his 4th Dan Black Belt certificate)
Craig started to work in Coles Dunsborough that year (4am starts) with his brother and in Janaury 2013 opened his first full time dojo in Busselton. A first of its kind in the local town of Busselton, 140sqm of professional training area, mirrors, spectators area, showers. Craig started off only teaching 3 evenings a week with ONLY 17 students!
The Dojo prospered in the first year achieving a total of 42 members by the end of 2013 and with Craig opening a 4th night of training (Wednesdays) including Kickboxing classes.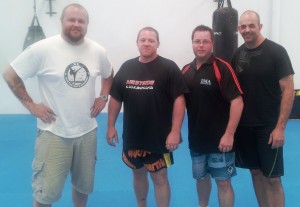 (XL Martial Arts Crew – Eric Jensen, Tony fisher, Craig Crampton and Steve Black)
2014 started well and with many improvements to the Dojo by the end of that year the school had reached 68 members. 2014 also saw Craig make a very hard heart braking decision to leave his original association after 30 'continuous' years with them and also in his 20th year of teaching in the Busselton Dojo.
With the guidance of his own instructor, Klaus Mueller Renshi Shihan and also Patrick MaCarthy Hanshi, Craig formed his own martial arts school after his Japanese name from 2005, 'Shinbukan Karate Australia'. Craig increased classes once again to now running 28 classes a week, including Saturday training, special events and seminars, BMA is now one of the leading full time martial arts schools in the region with world class facilities and affiliated with the prestigious IRKRS (International RyuKyu Karate Research Society), the AKF (Australian Karate Federation) and is now one of the only SHIBU authorised Dojo's in Western Australia for Koryu Uchinadi under Partick McCarthy Hanshi

 'Study the old to Understand the New'
in 2014-2015, Craig continued his own training and over a 6 month period with several skype calls, several written essays, videos of his own karate, plus a 3 day trip to Brisbane to train under Patrick McCarthy Hanshi and Bill Johansen Renshi Shihan. Craig was awarded his Godan (5th Dan Black Belt) and title of SHIHAN.
Now at the end of 2015, BMA boasts world class facilities, a dozen Assistant Instructors and over 120 members!
L-R
(Photo 1) Hanshi McCarthy with Craig Sensei at the KU Honbu Dojo
(Photo 2) Craig Shihan with his instructor of 30 years Klaus Mueller Renshi Shihan
(Photo 3) Craig Sensei with Bill Johansen Renshi Shihan in Brisbane KU Honbu Dojo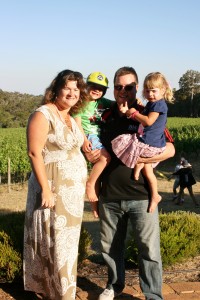 2015
Craig Shihan with his wife Rebecca (expecting our third) Master Connor and Miss Mia at Deep Woods estate Christmas Party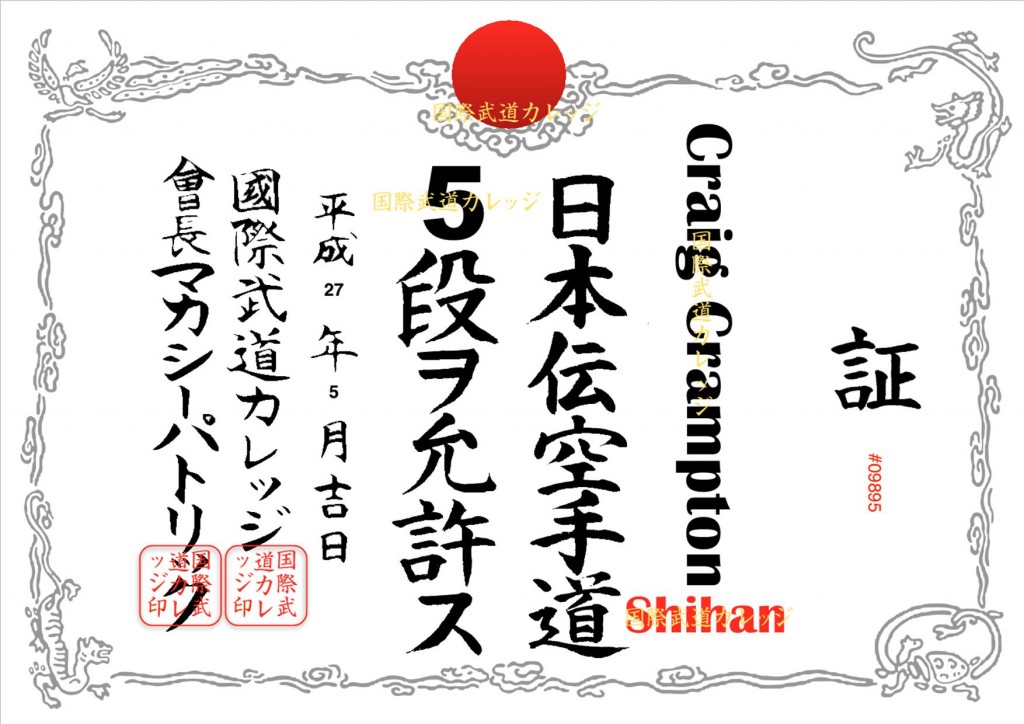 Craig Crampton's latest qualification in receiving his 5th Dan Black Belt and Shihan Title from Patrick McCarthy Hanshi 9th Dan
**NB: Unfortunately in 2015, after 10 years of use the word 'Shinbukan', the dojo name was trademarked in 2011 by another martial artist without permission from Craig. Even though a decade of pre-existing use was shown in Busselton, in the eyes of the law, trademarks precede all else and unfortunately as disheartened Craig was with his pre existing intellectual property of the name, by Australian law, the Busselton Dojo had to cease using its name in 2016.
With the assistance from Patrick McCarthy Hanshi (World renowned author, publisher, translator, world martial arts champion, master level fighting arts instructor and founder of Koryu Uchinadi) Craig Crampton Shihan's dojo was renamed Busselton Koryukan which primarily instructs GoJu Karate-Jutsu Koryukan and KU drills