Sensei has Returned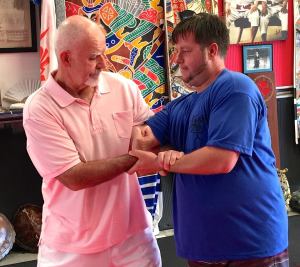 Sensei has returned from development week over in Melbourne and Brisbane.Sensei first attended the EFC Australian Summit in regards to business management for full time martial arts, karate schools and gyms in Melbourne. Sensei met up with over 150 other school owners to discuss and keep up with future trends in running full time schools. Some excellent speakers where there to share their ideas and coach new business management skills. It was a great time for Sensei to catch up with long time friends during the weekend.Sensei then flew to Brisbane to meet and train with WORLD RENOWNED master of the martial arts Patrick McCarthy Hanshi (9th Dan Black Belt). Here Sensei spent 2 full days under the guidence of Hanshi's So-Honbu main instructor Bill Johansen Renshi and Patrick Hanshi. Its too much to explain here, but lets say that Sensei's time here was extremely fruitful and enjoyable and Sensei comes away far more educated than most martial artists of this day and age.
Sensei Craig was also lucky enough to train with past WKF World Karate Champion and World kickboxing Champion on the Monday night.
Sensei looks forward to seeing everyone again in the classes this coming Monday 16th Feb under our new timetable. Many days of great karate and kickboxing to come.