NEW CLASSES STARTING MONDAY 1st SEPTEMBER 2014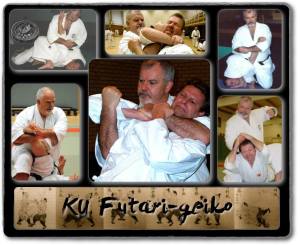 ADULTS ONLY!  WE WELCOME and SPECIFICALLY ENCOURAGE NEW LADIES TO COME AND TRY OUT BRIDGING THE OLD TO THE NEW – KORYU UCHINADI
Koryu Uchinadi is a contemporary reinterpretation of Okinawa's original old-school fighting practices and based upon the most realistic contextual premise imaginable — those empty-handed and one-against-one acts of physical violence which habitually plagued the culture in which the original art evolved/aka HAPV [Habitual Acts of Physical Violence] In addition to the HAPV-theory KU is most responsible for having introduced and popularized a collective system of 2-person application practices, which breathe life back into Kata. (traditional martial arts forms/patterns)
The fundamental basis of Koryu Uchinadi is to provide life protection skills. In doing so it's practice also conditions the body, cultivates the mind and nurtures the spirit, in order to improve health, it's holistic purpose; build moral character, it's social aim; help empower oneself in order to surmount human weakness, it's philosophical nature; and in doing so, reveal inner peace and tranquility, it's spiritual essence.
The KU method leaves no room for the kind of ambiguity exampled elsewhere in traditional karate; i.e., the kind of ambiguity which has given kata such a "bad name." KU represents a clear and precise pathway to mastery. If and when followed methodically, I am confident that the KU method will produce more far reaching results.
This is a new formal study group starting and NO EXPERIENCE is required from any martial arts, we will help guide you at your pace to learn the KU method. From here you can enjoy our traditional and free style GOJU-RYU Karate classes as well.