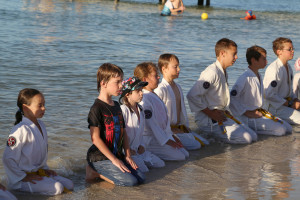 We are now into our second week of martial arts training for 2015. As in previous years, we have offered 2 nights at the beach and 2 nights in the Dojo for karate. Classes are a little modified though great fun. Adults get a combined class of karate, kickboxing and fitness. The Dojo is warm and more of a casual class to warm up into the year, though the beach is another story. Karate classes down on the beach have a different feeling, its hard work training in soft sand and not only that, you are being watched by the public. It's great fun. For the kids we combine fitness with martial arts specific skill games and good old training with a lot of water training at the end and the adults class is funny enough, exactly the same, but on a different intensity.
As we finish classes a little earlier for the adults on the beach night, its great for a bit of socialisation and a swim afterwards. Its also a great opportunity for parents to come down with the whole family, watch the kids train and enjoy what Busselton has to offer. The best beaches in the world.
How lucky are we to be able to do this.