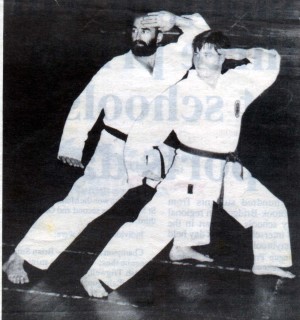 The last week of March and the first week of April saw BMA-Busselton Martial Arts turns 20 years old in Busselton. Thats right Sensei Craig has been teaching in Busselton for 20 years! BMA is the longest running single Dojo in Busselton which a history that actually originally dates back to the eighties.
Sensei Craig re-opened the Dojo in March 1994 after Instructor Anthony Trimbolli closed due to family and work commitments in Australind about a year or two before.
We would love to see all of our old members come back this year and try it out once again. We have come so far since the start and now run a full time professional facility.
Congratulations to Sensei Craig and also to his very first student who walked in the door the very first night of opening and he is still training today, Congratulations to William Holloway.
Photo: Sensei Craig (age 15) receiving his black belt under Shihan Klaus Mueller (Manjimup Rinbukan Dojo)