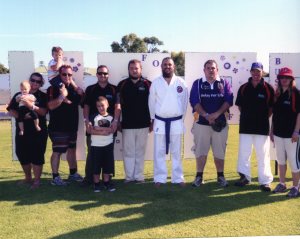 A small troupe of members from BMA supported the very first 'Relay for Life' in Busselton held over the weekend of the 5/6th April.
Our small band of merry warriors completed a stunning 328 laps of the circuit over a non stop 24 hour period (about 165km). We hope that BMa can support the 'Relay for Life' next year bigger, better and more crazy than we did this time.
Thanks to our Team Capitan Annette Viska for all of her hard work in getting us motivated and into the groove.
Team Members were: Annette Viska, Craig 'Sensei' Crampton, Rebecca Crampton, Shannon Dempster, Rhiana Coombs, Mike Clifton-James, Brett Waylen, Jayson Walker, Daniel Evdokimoff, Duncan Henderson, Nik Booker (and kids), Bailey Tuck.