I started my training as the very first student of Craig Crampton Sensei way back in March 1994 when the Busselton Dojo first opened. Training was intense and quite brutal back then, I joined with a couple of friends Chase and my brother Zachary in which both of them achieved 3rd Kyu Brown belts but then moved on to do other things.
Mids 90's (photo 1) Chase McNamara & William Holloway (photo 2 & 3) Sensei Craig Crampton & William Holloway during Kumite
After about 6 months break in the late 90's, Sensei Craig convinced me to return to training and I haven't looked back since. I quickly became Sensei's Uchi Deshi (personal assistant & training partner) and achieving my Shodan (Black Belt). I continued to train with Sensei Craig over the next decade and achieving my 2nd Dan Black Belt in 2003.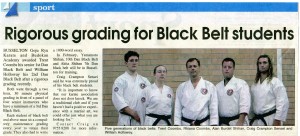 I am happy to say that after 20 years of training with Craig Shihan, I still love every night of training. Shihan's commitment to the martial arts is second to none to whom I have seen and trained with before. I am unfortunately FIFO now, but in my RR I train 5 times a week and also set up personal instruction with Shihan to continue my knowledge. I am grateful Shihan has taken me on this journey of the martial arts and appreciate that he continues to push me to my limits physically and with the extent of my knowledge in GoJu-Ryu and now KU.
Work has taken a little toll on my training over the past 5 years and I haven't graded since 2003. I look forward to my Grading in June 2016 for my Sandan (3rd Dan Black Belt) and its going to me a hard path to follow but will enjoy each day of it.
I currently take on the role of 'technical' advisor within the Dojo when Shihan is busy with other students in class.
I have made so many friends over the last 20 years at BMA and I look forward to the next 20 years.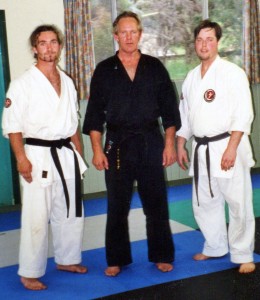 (photo mid 2000) Me with Terry Lyons Shihan & Craig Crampton Sensei